Texan Doodles - Testimonials
Here's what a few of our customers have had to say about us.
Have a testimonial of your own to share?
Send a Testimonial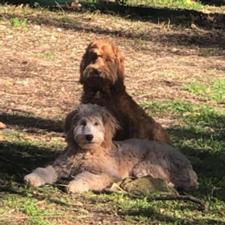 Tanya Atkinson
Summer 2019 - -
We had a great experience with Paula at Texan Doodles! Would highly recommend. Both our doodles from her have amazing temperaments and are in great health according to our vet. I wouldn't hesitate to connect with her again the next time we add to our furry family.
This is the best Doodle Breeder in Texas!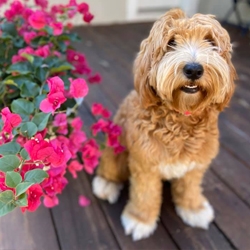 Heather Hall
Summer 2019 - San Antonio, TX
We are part of the Guardian program and could not love our puppy more!! Millie is so smart, affectionate, and will make the most perfect puppies! Paula is easy going but organized and wonderful to work with. Highly recommend Doodle breeder!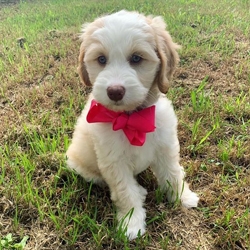 Stephanie Ovalle
Spring 2020 - Forth Worth, TX
We absolutely love our Jordyn! She has been the sweetest most amazing addition to our family! I recommend Texan Doodles to everybody I meet that is looking to purchase a doodle.
This is the top Sheepadoodle Breeder in Texas!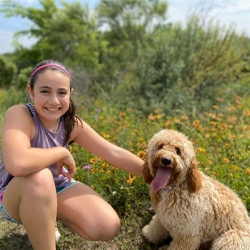 Jayme Martinez
-
We absolutely love our Jordyn! She has been the sweetest most amazing addition to our family! I recommend Texan Doodles to everybody I meet that is looking to purchase a doodle.
This is the best Doodle Breeder in Texas!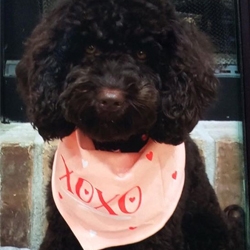 Heather Blalock
Winter 2020 - San Antonio, TX
We love our pup from Texan Doodle. Paula and family do a great job socializing pups. Our sweet girl knew basic command sit and down, but more importantly she slept happy in her crate first night. Great experience, would highly recommend. They are knowledgeable and experienced.
Caitlyn Brown
Summer 2019 - San Antonio, TX
Our labradoodle, Georgie, is awesome. He has been so well-behaved since we picked him up. Lovessss his tug of war toy & by following the tips and tricks in the book we received, he's always climbing into his carrier now. We are just over the moon with him! Thanks again :)
Rhonda Martin
Fall 2019 - Boerne, TX
Great puppy! very thorough with knowledge and information. Extremely helpful awesome breeding lines. Received a female, Australian labradoodle born 7/7/19
Scott and Brooke
Fall 2019 - Washington
Texan Doodles is way more than your standard breeder. They raise these puppies as if they were going to keep them forever. They even do things they absolutely don't have to do like have a photo shoot with your puppy every week. Then to go the extra mile, they provide you a photo book to take home with you documenting the early days of your puppies life. This plus many other reasons is why we flew across the country to get our puppy from TexanDoodles instead of finding a local breeder.
This is the best Doodle Breeder in Texas!
Kay Wood
Summer 2019 - Dallas, TX
Our puppy is wonderful and clearly got a great foundation. He has a wonderful temperament and has been easy to train. The adoption process was easy and transparent. Great experience for our family!
Kymberli Sentner
Summer 2019 - San Antonio
From the moment of first contact, to the myriad of questions after bringing our puppy home, Paula has exhibited loving patience and professional excellence. Her passion for breeding a well loved family dog from birth to its 8 week departure is most evident in this precious puppy we now call Jersey. He didn't whimper one night, is so joyful and full of fun, extremely smart, super cuddly, and has already blended in with our family in just 2 short days. So grateful you love this area, we want more Texan ?? Doodles!!
This is the best Doodle Breeder in Texas!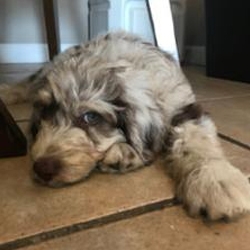 Christopher Mackey
Fall 2019 - Austin, TX
I had an absolutely fantastic experience getting my sheepadoodle,from Paula at Texan Doodles. It's clear from my pup's health and disposition that Paula really knows what she's doing. Her farm outside of San Antonio is beautiful, and it was clear, from when we picked up Wally, that he was wholly loved and taken care of by Paula's own family. Communicating with Texan Doodles, from the deposit process through pick up day was clear and timely, and ultimately a treat. We got to see some great pictures of our pup before he came home with us, and going in to meet the litter a few weeks before go-home day was really smooth and well run. I can't recommend Paula and Texan Doodles enough.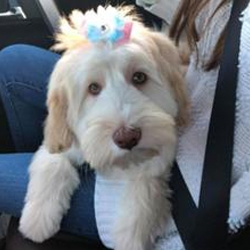 Ryan Miller
Winter 2018 - College Station, TX
This is our first experience with Texan Doodles, and they were great. They kept us up to date on everything going on with the litter. We were actually able to get the puppy that we wanted and she is the sweetest little thing. We couldn't have asked for a better experience.
Lauren Giorda Dominguez
Spring 2018 - San Antonio, TX
We LOVE our sweet double doodle! She is just perfect. Paula was friendly, responsive and knowledgeable. This new addition has made our family complete.
This is the best Doodle Breeder in Texas!
Sophie Gutierez
Summer 2019 - Nederland, Texas
Our sweet pup came home Saturday and let me just tell you, he has been one of the BEST puppies I have ever had. He is 8 weeks old and 2 days and has not messed in the house one time, goes to the door to go out, is sleeping through the night, loves his big brother and has been listening and responding so well. We are so impressed by this breeder and how much care and time she puts into each litter. It is very noticeable. Will always recommend her to family and friends and will be coming back in future years! Thanks so much Paula, we love our Double Doodle!
Susan Gelb Rosenberg
Spring 2018 - San Antonio, TX
We are in love with our mini Labradoodle! Paula and her family are incredibly loving towards all of the dogs from Triple Y.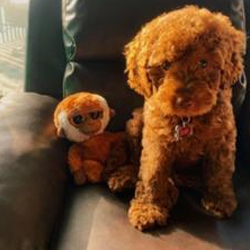 Sherry Culvahouse
Fall 2019 - Corpus Christi
We just got our sweet Ruby Rose last weekend and we couldn't be any happier! Our experience with Paula has been top notch. You can tell she has so much love, dedication & passion for what she does everyday for her puppies! I would highly recommend Texan Doodles if your looking for a high quality breed! We are looking forward to many beautiful years with our sweet girl!??
This is the best Sheepadoodle Breeder in Texas!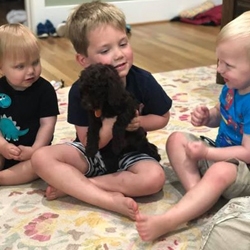 Lisa Linder
Summer 2019 - Houston, Texas
Such a great experience. It was obvious when we got our puppy the work and love they put into her. I can't recommend enough.
This is the best Doodle Breeder in Texas!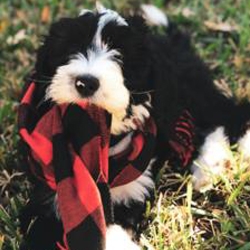 Christine McKinney
Fall 2019 - Spring, TX
We are absolutely in love with this baby! She is smart, sleeps through the night in her crate without a peep, and is potty trained aside from an occasional tinkle accident when people come over and use their baby voice. She is just the right mix of playful and calm. Paula definitely made a great pair with Dak and Domino. This puppy is perfection. I'd get another puppy from her in a heartbeat!
This is the best Sheepadoodle Breeder in Texas!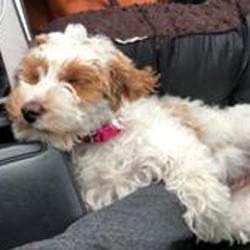 Cecilia Dennard
Winter 2018 - New Braunfels
I purchased from Texan Doodles but due to some circumstances I asked Paula and her family if they could keep my puppy for an additional few weeks. They were very supportive and allowed for weekly visits until I was able to pick her up. This is the best decision for me because not only did she care for my Jocee, she also worked With her and even potty trained her. She has been home just over a week and has only had two "accidents". Paula has children at home and this substantially helped Jocee adjust. She is very tolerable to children and has such a beautiful temperament, I truly believe this is because of how well Paula and her family loves and cares for her. I would definitely recommend Texan Doodles! Thank you Paula and family.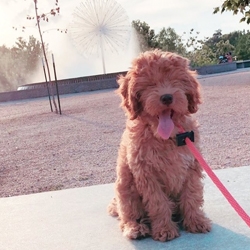 Grace Ann
Teddy
Thank you so much for breeding such the perfect dog!! I think her being in a home environment the first weeks of her life with a family and kids really helped make her sociable.
We will definitely be repeat customers some day! Teddy is doing great!! We love her sooooo much, and we keep wondering how we got such a perfect dog. She is playful and loving - she gets along with every human and dog she has ever met. She even likes cats & they like her!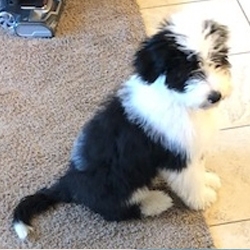 Craig Haessig
I love my Sheepadoodle! She is such a great dog. She is our first puppy and my kids fell in love with her from day 1. She is very good with them. Using Texan Doodles was a great experience. They love the puppies and take such great care of them. If anyone is looking for a doodle puppy I would definitely recommend Texan Doodles at Triple Y Farms!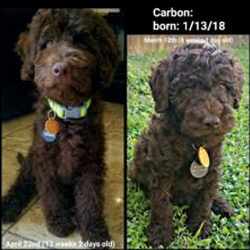 Dustin G.
Jan 2018 - San Antonio
New daddy to a "Texan Doodles" Chocolate Male Australian Labradoodle. I was overly impressed with Texan Doodles and they exceeded my expectations in several ways. They have the perfect family oriented environment for raising pups and proper care is obvious. Paula was professional & organized and she has been a great help since the first day I contacted them. I picked up my boy Carbon in March 2018 and he has been an excellent pup. So smart...and growing fast! I decided his middle name needed to be George because he's so curious & intuitive. Everybody loves his pretty eyes & soft and curly non-shedding hair. Thanks for such a great experience guys!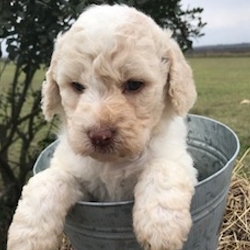 Alex Shirley
Jane Oreo puppy
We have loved our journey with Texan Doodles. The owner, Paula, has been so helpful and willing to answer all questions. On puppy pick out day, we were able to meet her family and kiddos. You can tell that these puppies are spending their first few weeks of life being loved on and played with. Also, weekly pictures are sent of our sweet pup. We can not wait to bring her home!
This is the best Sheepadoodle Breeder in Texas!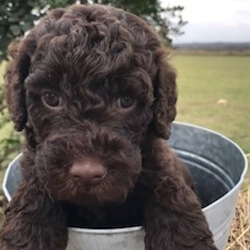 Tyler James
Fozzie
Overall just great people and breeder. From the beginning of the process the owner was very responsive and helpful in answering all of our questions. After we visited the farm to pick out our double doodle it furthered our confidence in Paula and what she does. Knowing that the puppies are raised in her home with her family and we're being worked with and started training with them really impressed us. We were very excited to bring our perfectly healthy dood home and will be getting another doodle from them next year with no question now that we have found such quality.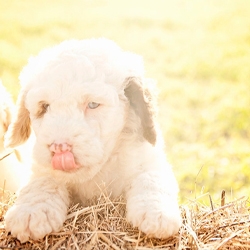 Lauren Dominguez
Double Doodle
We LOVE our sweet double doodle! She is just perfect. Paula was friendly, responsive and knowledgeable. This new addition has made our family complete.
Tania
Bufalo
We loved our experience with Texan Doodles! Our puppy is amazing. Paula was the best, all the time she was willing to help us will all our doubts or comments, and very helpful with his transportation to Mexico.
This is the best Sheepadoodle Breeder in Texas!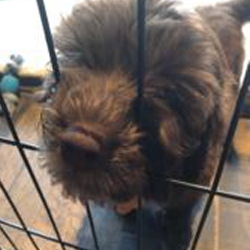 Jennifer Childress
Spring 2018 - San Antonio
We love Texan Doodles! Our experience with them was wonderful! We have the sweetest little chocolate brown Australian Labradoodle we have already fallen in love with. Paula was very professional and was always available to answer any questions or help us out with whatever we needed. We also were sent home with a goodie bag full of things for our new puppy. What a nice bonus. We highly recommend Texan doodles. You will have a wonderful experience and come away with a puppy that you will love!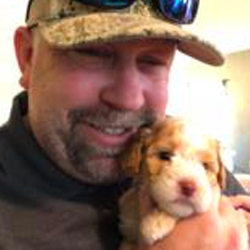 The Lyons Family
Spring 2018 - Castroville, TX
We just brought home our precious Dixie Doodle! We are guardians and have been so excited about bringing her home! Texan Doodles has been AMAZING! Wade and Paula and their children are a wonderful family and take outstanding care of all of their dogs. They are organized and kind and have been so helpful walking us through the guardian process. All of the puppies are well adapted and at ease. We look forward to staying in touch with them as our Dixie grows and learns. She is so soft and so sweet. We HIGHLY recommend Texan Doodles!!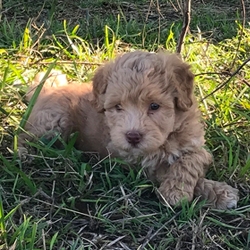 David and Michelle Sanders
Spring 2018 - LaCoste, Texas
My wife and I searched numerous websites for Australian Labradoodles in Texas. All the sites in Texas were accepting deposits for forthcoming letters, but none had any available at the time of our numerous searches. However, CA and OR websites did have a few puppies ready for transport. We did not want to buy a puppy without seeing the pups, breeder, and parents. The only website showing available puppies was Texandoodles.com, and they would be five weeks old in three days and able to be seen and selected. Our puppy will come home with us in three weeks, when she is eight weeks old. The whole process is relatively painless except the waiting and the driving, which is a little less that 350 miles round trip. We cannot stop thinking about our new baby and how beautiful she is. I would highly recommend Texandoodles to anyone looking for a quality Australian Ladbradoodle, Doubledoodle, or Sheepadoodle. The breeders, Paula and Wade Fieber, are really nice people and very informative. They live on a five acre ranch, but the dogs are residing in their home while guardian dogs residing in their own home with their forever owner and come for breeding purposes. The females only have three litters and the males breed for six years. These are not puppy mill puppies. All the dogs are quality dogs and family raised and socialized. The only thing they do not do is potty train them before going to their new families??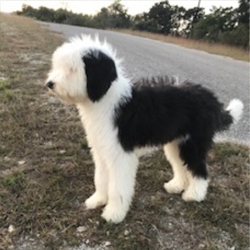 Andrea Brown
Dixie
We became guardians to our Sheepadoodle "Dixie". She is almost 5 months old now and we think she is the most perfect dog. She has such a sweet personality and is such a beautiful dog. She is so fluffy and soft and what's even better is that she does not shed! My entire family loves her! Thank you for giving us such a great dog.
This is the best Doodle Breeder in Texas!